Ecosystem Investment Partners operates at the confluence of environmental and economic interests. With $500 million in AUM, the private equity firm acquires and remediates ecologically degraded properties—generating credits that developers buy to offset environmental impacts from their projects.
The Challenge
With a 10 year track record, EIP embarked on raising its third and largest fund. In the process they recognized that they would be marketing to a different and more sophisticated type of investor. EIP engaged SPINE to revisit the way the firm presented itself. However, success would require more than making a compelling investment case. We needed to account for multiple stakeholder groups including:
Investors
Credit buyers and consultants
Regulatory agencies and NGOs
All were important to EIP's success, and each had its own distinct information needs. Corporate Identity
Our first task was updating the brand, starting with the cornerstone: the corporate identity. Moving away from the old logo's hand-drawn style, we developed a mark with a more institutional feel. The new logo can be seen in two ways, reflecting EIP's focus on delivering results for both investors and the environment. The blue line evokes a plot of land bisected by a river as well as a financial performance chart. This new logo provided us with a brand theme that we could apply to EIP's portfolio properties. The result was a unified brand presence, across all projects.
"…seeking an asset class that is proven yet new…"
EIP's primary channels for marketing to prospective investors are its pitchbook and corporate website. We repackaged the pitchbook, developing a visual language that reinforced the new branding. We applied the same look and feel to the website, which was completely rethought. In addition to covering all the key topics for any private equity site—including investment criteria, process, and team—we needed to educate investors on the new asset class and its appeal. It's a fairly complex story that we simplified to ensure it was easily understood.
"…seeking an asset class that is proven yet new…"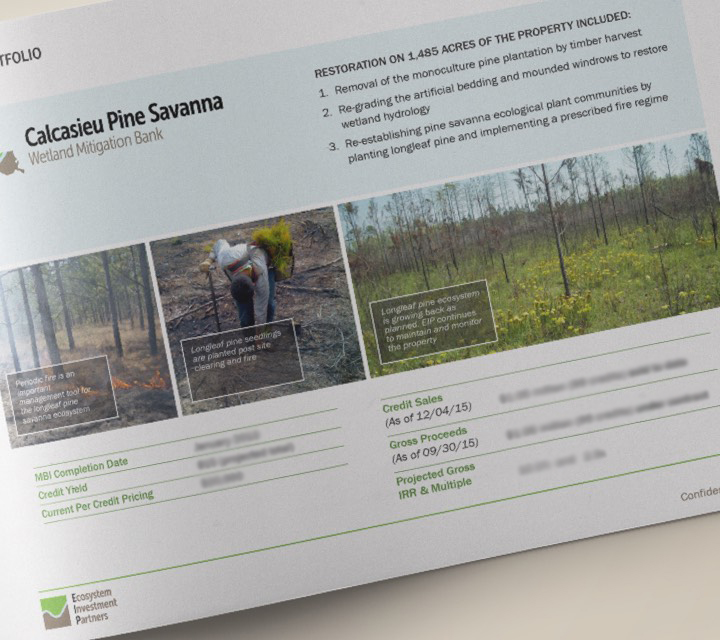 Stakeholders:
Credit Buyers & Consultants
"I need to buy a credit right away…"
Credit buyers and their environmental consultants have completely different priorities from investors. Generally speaking, credit buyers are developers seeking to secure environmental permits quickly and cost-effectively to keep their projects moving. They have options when it comes to compliance, so we needed to explain the benefits of buying offset credits from EIP. We created microsites for each mitigation bank that quickly provide the information developers needed while touting EIP's industry leadership. Sales collateral, advertising, and trade show graphics communicated those same messages.
"I need to buy a credit right away…"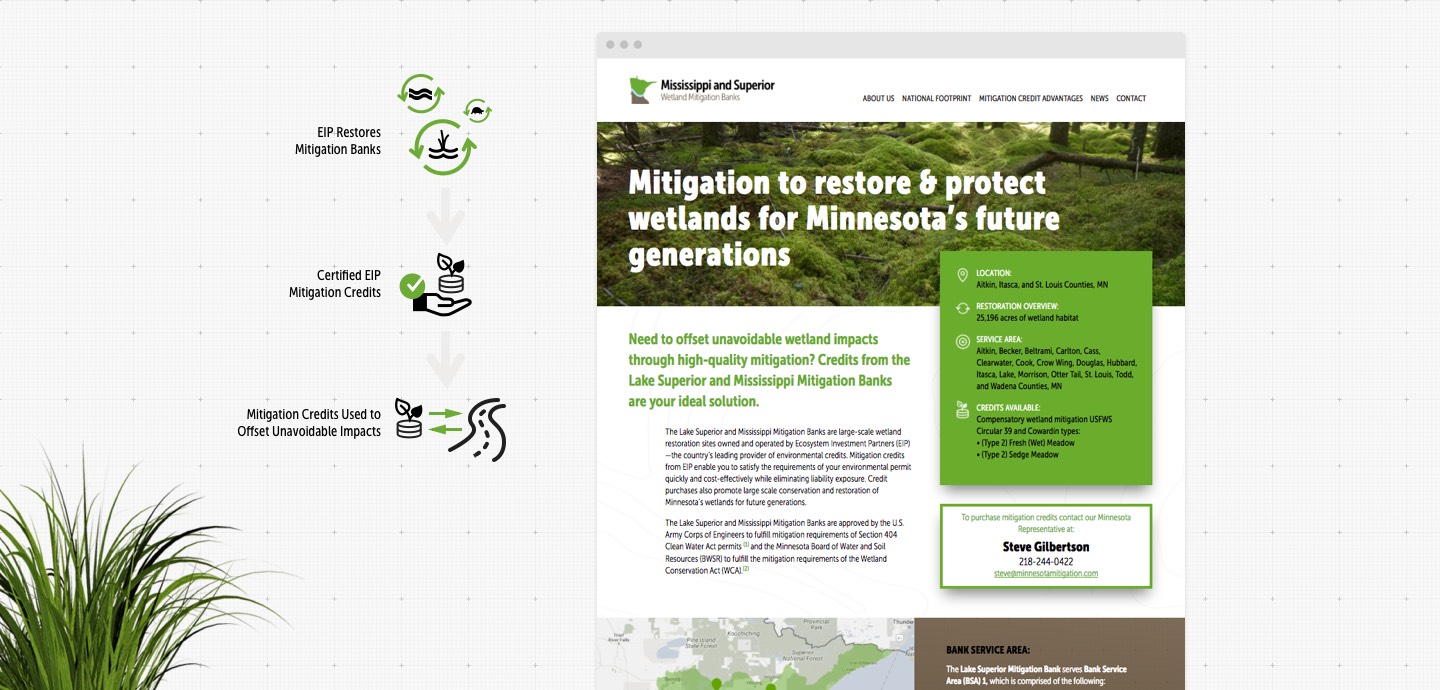 Stakeholders:
Regulatory Agencies & NGOs
"…legitimate, quality work?"
EIP works closely with regulatory agencies and non-governmental organizations focused on the environment. Regulators must approve EIP's projects, and both groups are sources of potential property acquisitions. The corporate website reinforces EIP's credibility with these stakeholders—communicating its unmatched capabilities, successful track record, and national footprint. The mitigation bank sites also serve as a resource for regulators, who often look to them for property-specific details.
"…legitimate, quality work?"